Proximal femoral focal deficiency (Congenital Femoral deficiency) It is a spectrum of disorders affecting the proximal femur. It can range from mere shortening of femur to a complete absence of proximal part of whole femur. It can be associated with involvement of knee and also the acetabulum (cup).
At birth the parents will observe that the child has a short leg
When the child begins to walk, as the leg is short, we may have to give a special shoe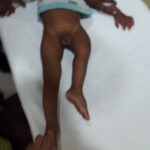 Reconstruction of head and neck. We can reconstruct the head and neck by cutting the bone and re orienting it. We will have to use a plate to hold the bone. Sometimes special material called BMP (bone morphogenic protein) may have to be inserted to achieve union
Some children with short femur can be treated with lengthening. In this procedure we cut the bone and apply a fixator. We lengthen the bone at 1mm per day. This is a well described procedure and is carried out all over the world. When we lengthen at this rate, the bones, nerves, muscles and nerves lengthen. In this example given below, we lengthened the bone by 7cm.