Scissoring
Title: Scissoring: Understanding Pediatric Orthopedic Condition

Introduction: Scissoring, a condition often associated with pediatric orthopedics, is a term used to describe a particular gait pattern in children. This pattern involves the crossing of the legs while walking, resembling the motion of scissors closing and opening. While scissoring might be concerning for parents, it's  important to note that this condition can be addressed effectively with the guidance of specialists like Dr. Sameer Desai, a renowned pediatric orthopedic surgeon based in Pune.
What is Scissoring?
Scissoring gait is a distinctive walking pattern where a child's legs
cross over each other during each step, causing them to move in a scissor-like manner. This condition can be indicative of underlying musculoskeletal issues, such as muscle weakness, spasticity, or contractures. It is often observed in children with cerebral palsy, spina bifida, or other neuromuscular disorders.
Causes and Diagnosis: Scissoring can be caused by a variety of factors, including muscle imbalances, abnormal muscle tone, or joint contractures. Conditions like cerebral palsy, where there is an impairment in muscle coordination and control, can contribute to scissoring gait. Proper diagnosis requires a comprehensive evaluation by a pediatric orthopedic specialist like Dr. Sameer Desai, who has extensive experience in diagnosing and treating such conditions.
Role of a Pediatric Orthopedic Surgeon: Dr. Sameer Desai Dr. Sameer Desai, a
distinguished pediatric orthopedic surgeon practicing in Pune, possesses a deep understanding of pediatric musculoskeletal conditions. With his expertise, he specializes in diagnosing and treating scissoring gait among children. Dr.  Desai employs advanced diagnostic techniques and personalized treatment plans to address the root causes of scissoring, ensuring the best possible outcomes for his young patients.
Treatment Options: The treatment approach for scissoring gait largely depends on the underlying cause and severity of the condition. Dr. Sameer Desai employs a multidisciplinary approach that may include:
Physical Therapy: Targeted exercises and stretching routines can help improve
muscle strength, flexibility, and overall gait pattern.
Orthotic Devices: Customized orthotic devices, such as braces or splints, can
provide additional support and promote proper alignment during walking.
Medications: In some cases, medications can help manage muscle spasticity
and improve mobility. Surgical Intervention: In severe cases or when conservative measures aren't  effective, surgical intervention might be recommended to correct muscle imbalances or joint issues.
Conclusion: Scissoring, while concerning, can be effectively managed and treated with the guidance of a skilled pediatric orthopedic surgeon like Dr. Sameer Desai. With his expertise and compassionate approach, children experiencing scissoring gait can receive comprehensive care that addresses their unique needs, allowing them to lead more active and fulfilling lives. If you' re  seeking specialized care for your child's musculoskeletal condition, Dr. Sameer Desai in Pune is the expert to consult.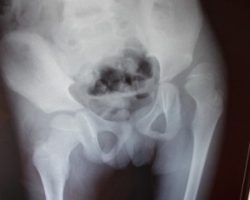 Meet Our Doctors